Samuel Rafalin M.D., F.A.C.O.G
Dr. Samuel Rafalin is board certified in Obstetrics and Gynecology and is a Fellow of The American College of Obstetrics and Gynecology. He has been providing OB/GYN care in New York City since finishing his residency in Obstetrics and Gynecology at Lenox Hill Hospital. He is a graduate of Brandeis University followed by New York Medical College.
This foundation has allowed him to provide his patients with full-scope obstetrical and gynecologic care, including routine and complex prenatal care, routine and complex gynecology, gynecologic surgery, and minimally invasive surgery. During his residency he received the Marvin Zuckerman prize for surgical excellence.
Prior to starting Central Park South Obstetrics and Gynecology Associates, Dr. Rafalin provided care specializing in obstetrics, gynecology, and family planning. He is comfortable providing the full range of OB/GYN care from routine prenatal and gynecologic care to complex pregnancies and gynecologic surgical interventions.
Dr. Rafalin provides care in a compassionate, warm, and approachable manner. His fluency in English and Spanish and his proficiency in French and Hebrew allow him to care and communicate with a wide range of patients. He is sought out by patients from all over the world.
Rahela Sachedina W.H.N.P.-B.C.
---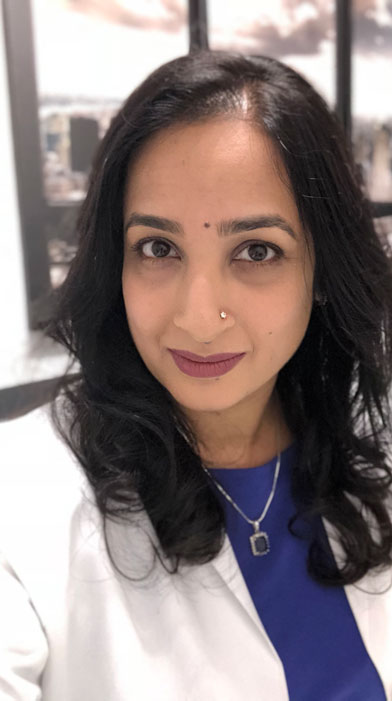 Rahela Sachedina is a Licensed and Certified Women's Health and Adult Health Nurse Practitioner with nearly 20 years of experience in providing her patients with the highest caliber of preventative and diagnostic gynecological health care services.
With undergraduate degrees from both the University of Toronto (Toronto, Ontario) and Ryerson University (Toronto, Ontario) and a Masters of Nursing with Honors from Columbia University (New York, NY), Rahela has forged a reputation amongst her patients for being a medical provider with a perfect blend of "IQ and EQ''; she skillfully addresses a wide variety of her patients' gynecological concerns with a warm, personalized bed-side manner that places the patient's comfort and well-being above all other concerns.
Currently, Rahela practices at Central Park South Obstetrics and Gynecology Associates where she provides a full spectrum of women's health services in a comfortable and caring environment. Patients across the New York City metro area see Rahela for comprehensive gynecologic visits and various services such as pap smears, menopause consultations, endometrial biopsies, IUD insertions and family planning. Ms. Sachedina is also a knowledgeable and skilled colposcopist certified by the American Society for Colposcopy and Cervical Pathology (ASCCP).
Rahela understands the importance of the relationship between a provider and a patient. She believes in working together with her patients to accomplish the desired clinical goal and strives to always provide the patient with accurate and clear information about their condition and diagnosis. She is committed to providing her patients with the highest quality of care and to establishing long lasting relationships with them. Her popularity among her patients is a result of years of dedicated service.